Eid is just around the corner, and Muslims worldwide are preparing for this much-awaited holiday, shopping for gifts and new clothes. Eid is a time for endless parties, celebrations, and family gatherings. Also, it's a season of giving and receiving gifts. So, as a retailer, you need to stay current with marketing trends to reach more customers and get ready for incoming sales on Eid.
Wondering which marketing strategies will work for your business? No worries! To answer your concerns, we've compiled a list of great Eid marketing tips that you can use to increase sales and get more customers.
Eid marketing Ideas for Retailers
Train your Workers
You might unintentionally neglect customers in your store since your workers have to work on many things. Therefore, training your workers is important that must be carefully planned. Train your workers on how to greet customers, how to sell goods, and how to identify theft.
Decorate your Store
Decorate your shop or store to attract the customers' attention. Your customers will be interested in visiting your store if you set up a beautiful decoration.

Set up and decorate your store to match the overall Eid vibe to let your customers know you're celebrating Eid in style. Decorate your store or shop with balloons, hanging stars & moon, and fairy lights to create a festive atmosphere. You can add Eid-themed elements into your decor, such as hanging cardboard cutout crescent moons from the ceiling alongside balloons or strategically placing lanterns around your shop.
Make Posters for sales on Eid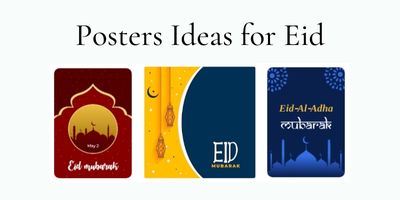 If you have a website, social media platforms, or online presence, you should also decorate that space. Upload Eid-themed posts in your Instagram feed. Ensure that every aspect of your retail brand openly displays your recognition and appreciation for sales on Eid to your customers. With the Poster maker app, you can create beautiful Eid-based Instagram stories, Facebook covers, or YouTube banners.
Advertise your Products on eCommerce Platforms
Technology has made our lives considerably easier than before. Many merchants like to use E-commerce platforms because they are considered a lifesaver for many firms throughout the pandemic. You may even influence them during the festival season.
Advertise your items or products on Walmart, Amazon, or Etsy to increase sales by attracting more buyers and gaining knowledge of your target buyer's purchasing habits. Using the information provided by these sites, you can control which products attract the most attention and when your potential clients choose to buy.
Organize an Eid Contest
Who doesn't enjoy competitions and contests? Particularly when you have the opportunity to get offers and win a special prize. Having fun contests helps you create a festive and happy vibe that boosts people's engagement with your brand.

You can host an Eid competition and encourage your customers to participate and win amazing prizes. There are numerous ways to accomplish this. If you own a clothing store, you can ask customers to send in photos of themselves wearing your festive Eid collection and reward the customer who styles it the most creatively.

Customers who send in pictures of how they use your products to decorate their Eid parties can be rewarded by vendors of party decor and other similar items. You can also hold smaller contests within your physical store. Set up a digital display with a few Eid-themed quiz questions and have walk-in customers answer them to win a special discount on your products.
Announce Special Offers
Many people spend Eid shopping for gifts, clothes, or supplies for all of their dinner parties and gatherings. Therefore, you have to clarify that you have special offers for all customers looking for a good deal this Eid.
Nothing appeals to a customer more than a sign that says "sale," "special offer," or "promotion." And you can make these signs as colorful and creative as you want. Browse through various Eid sale posters on Posterapplab to find the right templates for your needs.
Add your brand name to the top of the Eid poster templates to make it visible to customers even from a distance. Display your special offers and sale discounts in a bright, bold font. Add some Eid elements and animations to brighten up your discounts. Include all relevant information, such as timings, sale limits, website links, etc.
When your poster is finished, you can display it throughout your store, at the cash register, and on the front windows. Post them on your Instagram Stories and Facebook Stories, and ensure your website announces the special Eid sale.
Parting Words
Eid is a time of celebration, joy, and happiness. It's also when everyone celebrating is seen scrambling around for the right clothes, ideas, gifts, or party setup. Use these Eid marketing tips to scale up your marketing game and give your customers a unique experience on this festive occasion.