Editing and making your images is important, after all a good and attractive image attracts customers. It will help to boost your social media, whether you are a social media influencer or brand promoting your product or services.
There are many ways to enhance or retouch photos, no matter how wonderful they are without editing or how amazing your photography abilities are. Because they enable you to get high-quality outcomes without spending a fortune, picture editing applications exist.
There are many online poster maker tools available today. In this article we will be discussing some of the easy to use and free poster maker online.
PosterAppLab: Online Poster Maker Tool
With PosterAppLab, you can design whatever you want with a few clicks. They offer thousands of free to use templates to make it easy for you to use this tool. You will need to just add text and your product or services image, that's all your poster is ready.
Your design inspiration will come to life as a result. The poster maker's drag and drop template allows you to quickly and easily create masterpieces. It's so easy to use, you can make it without having an experience.
For social media postings and event posters, many templates are available. You may effortlessly share what you have made in order to wow your audience. You may download your work and share it on Facebook, Instagram, and other platforms with only one click. You may adjust anything to meet the needs of your brand. It is a free online poster creator.
If you are planning to manage social media for a brand then you can find templates for every festival, which will help you make posters for every festival in a few steps. You can make posters of any ratio and size. This Online Poster Maker Tool contains the latest elements, amazing fonts, backgrounds and you can even upload your own pictures.
Tip: you can use a background removal tool from an image and then upload that background removed image on poster. It will help you create posters, brochures, social media graphics, logo, calendars, menus, t-shirt designs, watermarks, labels, wallpaper resumes, letterhead, and more.
Canva: Free Design Tool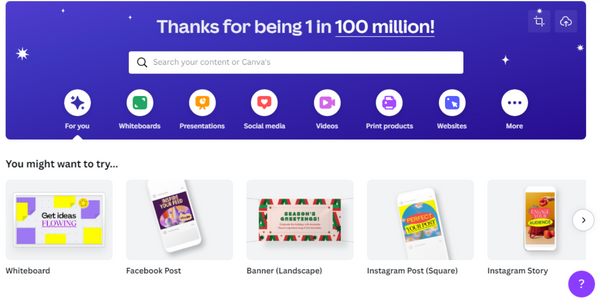 One of the most widely used graphic design tools available is Canva. The tool is incredibly convenient, user-friendly, and intuitive. Anyone may use this image editor on the web, regardless of their level of graphic design expertise, making it the ultimate no-experience photo editor. You can quickly construct something thanks to the abundance of templates. If you'll need to upgrade to the Premium subscription to access certain tools, templates, and features. You will also get access to their library's millions of stock pictures, films, and design components with the premium membership.
PosterMyWall: Easy Promotional Graphics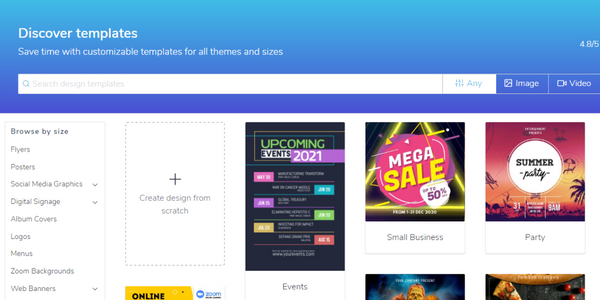 This online picture poster tool has a vast image collection. Your one-stop shop for all of your graphic design needs is PosterMyWall. A sizable collection of templates that you may modify will make it simpler for you to construct your own designs. In comparison to the other tools on our list, this one is pretty unique. You may do this to pay a little charge to gain access to Getty photos. It can be really beneficial if you have access to Getty. With photographs, folders, video collections, and other tools, you can keep organised
You may invite team members to PosterMyWall to modify and comment on designs. The gradient backdrop of the tool provides a ton of visual intrigue. Use the "Glow" effect to make the photos stand out from the page. The tool's user interface isn't significantly different from the ones of the earlier utilities. As a result, you ought to have no trouble understanding it. Resizing the designs allows you to create a whole collection of marketing materials.
Pixlr: Free Photo Editor Online Image Animation and Design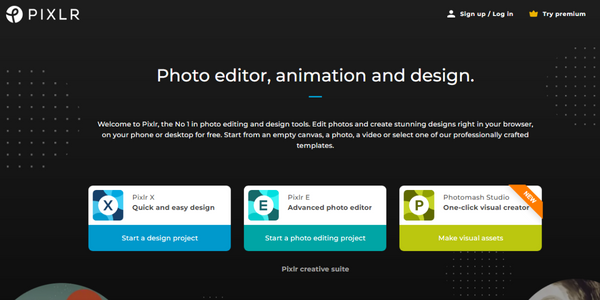 Pixlr's plethora of features need registration before you can use them, but the extra setup time is definitely worth it. Pixlr makes it simple to import your photos so you can immediately begin editing.
This online picture editor offers a variety of straightforward one-click capabilities and a rather comprehensive toolkit, and is accessible via your browser, the iPhone, and Android platforms. The ease of use of this program, which provides lessons to guide you through its trickier features and is simple to master once you get the feel of it, is arguably its best feature. This is a great option for you if you are comfortable with picture editing software.
The firm also offers Vectr, a free vector graphics editor, some free visuals you can use in your creatives, and a decent collection of free stock photos should the need arise. All of these products are excellent small programs.
Despite being free to use, the finest features of this program are hidden behind a barrier. For access to the most sophisticated capabilities, you must upgrade to Pro. It is still one of the most widely used iPhone picture editors, nevertheless.
BeFunky: Free Online Photo Editing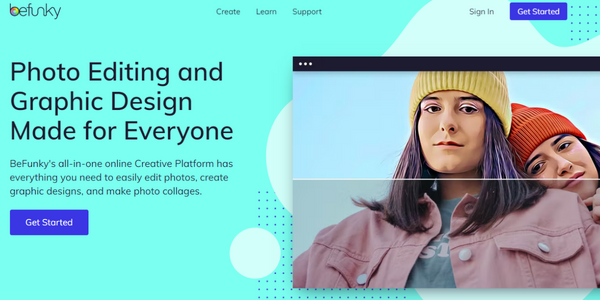 An intuitive and free online picture editor called BeFunky is available. With a few clicks, it may add a variety of effects to a photograph. A "Cartoonizer," which transforms any photo into a cartoon with a single click, is one of the features that stands out.
There are furthermore more businesslike tools. BeFunky is a great tool for creatives to quickly produce marketing assets such as flyers and brochures.
BeFunky is free to use, but it costs $4.99 per month to access some of the more sophisticated tools.
Fotor – Free Online Photo Editing
An entirely free online picture editor is called Fotor. This tool is for those who has little experienced with picture editing before. You can rapidly get up to speed using free online photo editors like Fotor since they include helpful wizards that walk you through its primary capabilities.
With only one click, you may edit your photographs' colors, add effects, and employ portrait touch-up tools. After that, you may include other components like icons, shapes, and patterns.
To protect your photographs, Fotor offers cloud storage. One million stock photos that are approved for commercial use are available to you if you sign up for the premium version.
FAQ's: Online Poster Maker
What dimension does a poster have?
The poster sizes that are most often used are 18 x 24, 24 x 36, and 27 x 40 inches. The first is a medium-sized outdoor and interior poster. The second works well to stand out in circumstances with more activity. Bus and subway stops can use the third size.
How do I use my own photographs to make a custom poster online?
Your own photographs and graphics may be used to customize themes. By selecting "My files," you may upload your files to our free online poster creator where you can then modify and add them to your artboard. Selecting "Remove Backdrop" from the top menu can quickly erase the entire background if you need to remove it in order to produce a poster. To bring your ideas to life, play around with our sophisticated editing tools and filters.
Can I print or share my poster?
Yes! You may share a link to your poster created by PosterAppLab's editor using a free account.
Do I need design experience to use Online Poster Maker to make a poster?
Online Poster Maker to produce your own without any design knowledge. Professionals may use our online graphic design tool with no problems. To help you quickly create a poster online, we provide free images, fonts, and graphic elements as well as professionally created printable poster designs. Simply choose a template that you want for a poster and have fun being creative!
What can I do to make my poster beautiful and different?
Avoid stuffing your poster with excessive visuals or text. The most memorable posters are plain and unambiguous, with white space, content that is appealing to the eye, and a call to action. Just include the information that you absolutely must have them see; the goal is to get their attention.