With each passing day, social media is becoming a more visual medium and a marketing tool for businesses. You don't just share a post on Instagram or Facebook, but also upload a story or video to offer users a more visual experience. Businesses, today, use social media to promote their brand, products, or services. However, building a brand identity on social media can be difficult. That's where premade social media templates might come in handy. Social media templates can help you create and implement new marketing strategies and drive conversions.
In this post, we'll discuss how the Poster maker tool can help make social media powerful.
Boost Your Social Media Presence With Posterapplab's Templates
A social media template can create a visual style for your posts. Posterapplab is the best online graphic designing platform for creating social media content. This platform has a huge library of social media templates that include;
Facebook templates
Instagram templates
YouTube templates
You can use these templates to design stunning, catchy posts for different social media platforms. Posterapplab provides both the web-based tool and mobile app to design social media posts including posters, banners, flyers, logos, and business cards.
Create a Visual Style on Social Media
Posterapplab's templates can help you in adhering to a typeface or color palette in photos and card-style posts. Also, they can assist you in creating a feel – such as a color overlay on a picture or a favorite filter – that connects users with your brand.
From color, background, and fonts to whether you use design frames, emojis, or even how you place the brand's logo on your posts are all elements that make up a visual style for social media content.
Quick Image Creation
The best thing about custom-designed templates is that they help you design fast without wasting time. Our online Poster maker has all the tools you need to create an image. These templates include size specifications that enable you to place your image, text into the proper location.
Create Social Media Campaigns for free
Whether you're a startup company just getting started or an existing one trying to improve your social media strategy – visual graphic design can help you build your brand identity online.
Almost 5 billion users are active on social media platforms like Facebook, Twitter, LinkedIn, and Instagram. So, how can you engage them with your content? The solution is simple: create fascinating and engaging social media visuals with the Poster maker app.
Posterapplab's social media templates are compatible with Facebook, Pinterest, Twitter, YouTube, and Instagram. Get free access to over 1000+ custom-made templates and layouts that will help you to produce great posts in minutes!
How to make social media designs with the Poster maker?
Visit posterapplab.com or download the Poster maker app from either the Play Store or App Store.
Browse from social media templates for every sector and theme, such as travel, parties, holidays, and more. You can choose the ideal design for Twitter, Facebook, Instagram, and other social media platforms. Pick the one to make your favorite yours, simply click on it.
Explore features and use stock images, icons, fonts, speech bubbles, shapes, and other design elements to hone your creativity. Apply filters, animations to make a post that reflects your brand.
Customize the template by changing its background, color, font style, or more. You can upload your own images and add text, audio, or video to make your design unique.
Once completed, download and share your design directly to your social media platforms from Posterapplab.
The Final Word
Posterapplab's library has thousands of professionally designed social media templates. From Facebook posters, Instagram stories, YouTube thumbnails, YouTube banners, Facebook covers, advertisements, to promotional flyers. Which is easy to use, So here are some of templates: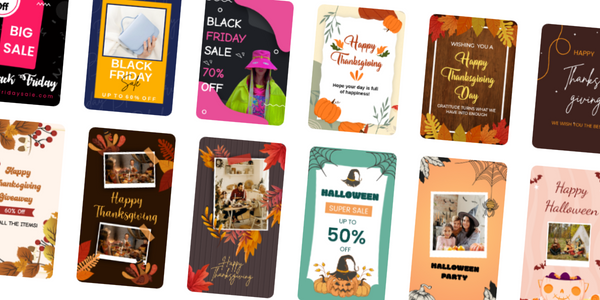 FAQ's: Poster Maker
What information ought to include on social media graphics?
If you do use text, make sure it is easy to read, simple to understand, and clear. You should also employ color contrast for improved legibility, a visual hierarchy to draw the viewer's eye, colors that reflect the mood you want to convey, and the appropriate typeface for the message's tone.
What kinds of visuals are used on social media?
Social media graphics range from Facebook videos to Twitter banners to Instagram tales. Photos and pictures, movies, tales, infographics, quotations, blog images, GIFs, lists, screenshots with arrows, charts, thumbnails, posters, and logos are the most widely used alternatives.
What social media visuals can I use for my company?
In addition to promoting your company and boosting sales, social media graphics also assist you maintain brand coherence across all of your platforms. You may employ top-notch visuals that accurately represent you for your social media profiles and website.