Instagram stories are an effective way to engage your audience, build informal connections, and boost your brand awareness. With 200 million daily active users on Instagram, you cannot ignore IG stories if you want to promote your products, services, or brand.
Why should you add stories to your Instagram profile?
Post whatever you want in stories.
You can post anything in stories. Unlike posts in the Instagram feed, stories don't need to be polished. It's an excellent opportunity to share "behind the scenes" content, which can help your business appear more relatable.
Cool features
Instagram stories contain interesting features such as polls, stickers, and hashtags, and they are always growing. Furthermore, because you can constantly see how many individuals saw your article, you can readily assess its efficacy.
Reach the target audience
If you post a lot of stuff, you will not annoy your viewers. Your followers would only see your stories if they want to.
How to create an Instagram story on Posterapplab?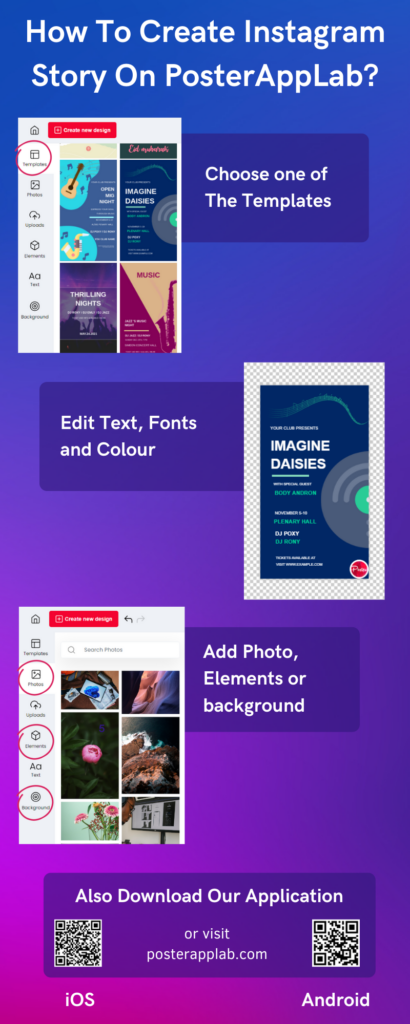 Posterapplab's Instagram templates are a huge time-saver. These custom-made templates are an effective way to streamline your social output. Posterapplab has a huge collection of professionally designed templates that you can customize to match your brand aesthetic. Follow the steps below to create Instagram stories with Poster maker.
Launch the Poster app and select the Instagram Story templates option.
Browse from a wide collection of templates and pick anyone to customize.
Now, tap on the template to add an image. Simply, select from a stock of images that include images and illustrations or upload an image from the gallery.
You can then change the background and color of the image. Also, you can easily apply filters to match it to your brand look.
The Poster maker tool lets you edit other elements such as font text, shapes, icons, etc.
Once the design is ready, tap on the download button.
Save the design and share it via email, social media, or directly from the Poster app.
How to boost engagement with Instagram Stories?
Wondering how can you get your audience to engage with your content? Here are some easy tips that you can use to do that:
Add swipe-up links to stories
You can add swipe-up links to your story posts that drive more traffic to your blogs, websites, or product pages.
Add polls to Instagram
Instagram gives you two poll stickers that you can add to stories. Polls are also the best way to ask your visitors for feedback.
Mention followers in the stories
Another great way to engage the audience is the @mention sticker that allows you to tag a brand or person to your story. It would encourage your audience to mention you and share their stories.
Takeaways
Creating appealing Instagram Stories might be difficult and time-consuming. However, with the Poster maker tool, you can quickly create engaging and beautiful Instagram stories. Just choose from a wide variety of free Instagram story templates and customize them to make your own posts.